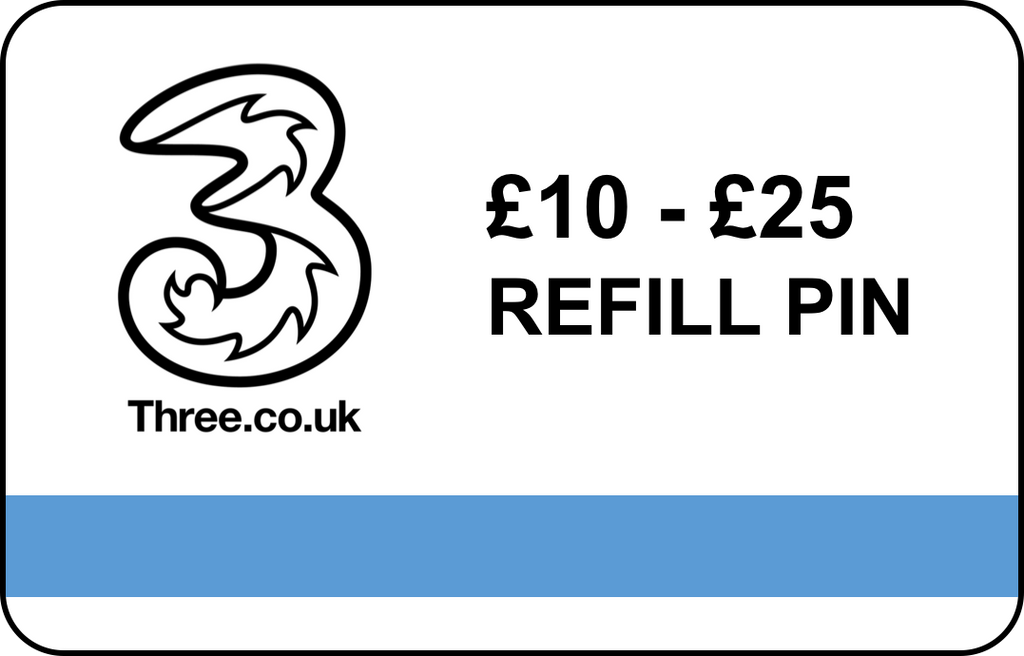 THIS IS FOR CREDIT ONLY- see separate listing for the SIM here.
If you already have an 3 SIM, and want to add credit, just add this product to your cart.
The credit is sent as a PIN via EMAIL within 12-24 hours (sometimes slightly longer on a weekend).

Ignore that it will ask you for address/shipping details, this is just legacy of a ecommerce store that normally requires shipping info.
You must use/apply the credit PIN to your account within 2 months (60 days) of purchase.

GETTING CREDIT
dataGO.co can sell you credit you add to your account.
The easiest way to add the credit PIN is via the 3 quick web top-up portal here
Just purchase one of the 3 UK credit vouchers here. We will then email you the top-up voucher codes within 24 hours.  You then need to put the 3 UK SIM into your phone, dial 4444 and follow the prompts to top-up using the voucher. See our full 3UK Phone SIM activation guide here.
You can also buy top-up vouchers from 3 UK shops and convenience stores around the UK.
The main product information page for the 3 UK Prepaid PAYG Data SIMs and 3 UK Prepaid PAYG Phone SIMs and there is also a number of FAQs answered on the 3 UK Data SIM Activation Guide and 3 UK Phone SIM Activation Guide.
Customer Reviews
Fabulous
2nd Time I've used this data/phone card in Europe. Never an issue. Easy to buy from datago and apply PIN to my UK3 MyAccount
dataGO Review
This is a great service. DataGO have responded quickly, both with the initial request for SIM's and subsequent top-up vouchers. The 3 UK SIM works everywhere we've been in Europe, which is Hungary, CR, Slovenia, Croatia, Italy, France, Germany, Austria, The Netherlands. No problems. Often the cellular data is quicker/more reliable than wifi in accommodation. It says you can't hotspot but on this trip we've been able to. 3's credit/Add-on system is hard to understand at first but worth persisting with. All thoroughly recommended.